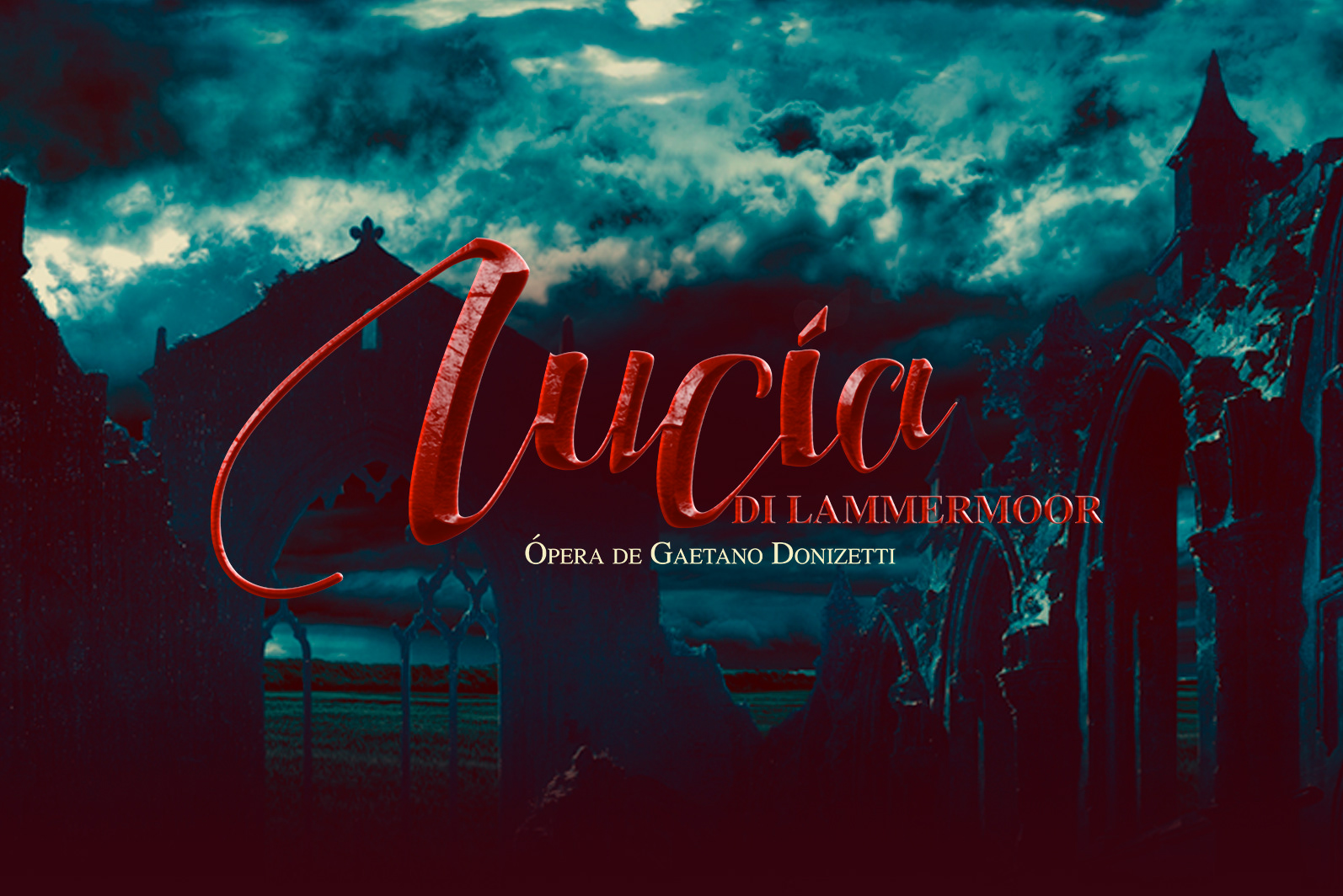 Animaciones para la escenografía de 
Lucia Di Lammermoor
Julio y Agosto en concepción siempre han sido meses de Ópera. Este año presentamos "Lucia Di Lammermoor" de Gaetano Donizetti.
Con una dirección escénica de mi gran amigo 

Gonzalo Cuadra

y los diseños de escenografía y vestuario del maestro

Germán Droguetti

, diseñador de gran trayectoria a nivel mundial y de quien he aprendido un sinnúmero de significancias, simbolismos y sobre todo como llenar de magia visual la escena. 
Por otra parte,

Patricio Pérez

que me aconsejó y maximizó en todo momento mi trabajo y el de Germán con su perfecto dominio de las luces y sombras.
Desde enero del 2017 cuando imaginamos usar una pantalla utraresoluta que aportara otro lenguaje a la escenografía, hasta mediados de agosto nos demoramos en animar, corregir, modificar y editar esta escenografía digital. El desafío era importante pues por primera vez nos íbamos a arriesgar a utilizar una pantalla de fondo en una Ópera. Imagínese, el conjunto de las artes por excelencia, La Ópera, que combina la lírica, una orquesta sinfónica, 
la pintura, la danza, en fin. Esta, máxima expresión de arte de pronto se encuentra el año 2017 con una pantalla reemplazando gran parte de los elementos escenográficos de antaño, esto era una una gran apuesta, si lo hacíamos mal probablemente iba a ser un rotundo fracaso con todo lo que ello significa.
No fracasamos, de echo

Juan Antonio Muñoz

del Diario

El Mercurio

dice que esta ópera se vincula con el sometimiento de la mujer a travez de los años y que

"Las animaciones digitales que enmarcan la escena de la locura y a través de las cuales se sitúa la acción en esos castillos, abadías y cementerios de las Highlands de Escocia, insufla magia visual a la producción".
Fue posible, un trabajo arduo y no exento de complicaciones, pero sin duda un aporte a la escena local.
Scenography animations for the opera Lucia Di Lammermoor
July and August in Concepción have always been months of Opera. This year we present "Lucia Di Lammermoor" by Gaetano Donizetti.
With a scenic direction of my great friend

Gonzalo Cuadra

and the scenography and costume designs of the maestro

Germán Droguetti

, designer of great trajectory at world level and from whom I have learned a myriad of significances, symbolisms and above all how to fill visual magic with the scene . On the other hand,

Patricio Perez

who advised me and maximized at all times the joint work we did with Germán with his perfect mastery of lights and shadows.
Since January 2017, when we imagined using a hight resolution screen that contributed another language to the scenery, until the middle of August we delayed in animating, correcting, modifying and editing this digital scenery. The challenge was important because for the first time we were going to risk using a background screen in an Opera. Imagine, the set of arts par excellence, The Opera, which combines lyric, a symphony orchestra, painting, dance, in short. This maximum expression of art suddenly finds the year 2017 with a screen replacing much of the scenographic elements of yesteryears, this was a great bet, if we did it wrong it would probably be a resounding failure with all that it means.
We do not fail, in fact

Juan Antonio Muñoz

of the nacional newspaper

El Mercurio

 says that this opera is linked to the subjection of women through the years and that

"Digital animations that frame the scene of madness and through which lies the Action in those castles, abbeys and cemeteries of the Scottish Highlands, instills visual magic into production. "
It was possible, and although it was an arduous work and not except for stumbling we managed to make a contribution to the local scene.
Proceso de trabajo con Adobe After Effects
Fotografías del Resultado Final